Muv-X sterilizer
Designed to quickly and effectively sterilize any room using ultraviolet (UV) light, the Muv-X UV room sterilizer can be used by anyone to support sanitizing strategies during the Covid-19 pandemic and beyond.
The Muv-X is a portable disinfection device which uses high-output UV-C lamps to emit powerful beams of ultraviolet light, quickly sterilizing the air and all visible surfaces in a room. UV-C has a long history of use in medical facilities, as it inactivates viruses and kills bacteria.
Why use UV-C?
UV-C is a chemical-free alternative to fogging or ozone decontamination. Unlike spray disinfecting methods, UV-C leaves no chemical residue, therefore there are no long-term health impacts to its use. In fact, the WHO has advised against the use of spray / fumigation disinfectants, as studies have shown that these disinfectants pose risks to the eyes and respiratory system in workers.
(Source: 'Cleaning and disinfection of environmental surfaces in the context of COVID-19', published by the World Health Organization in May 2020).
Key Benefits of the Muv-X
Hospital-grade disinfection.
Highly effective against SARS-CoV-2 (Covid-19).
Effective against viruses, bacteria, fungi and mould.
Easy to use.
Chemical-free.
Mobile: easily wheeled from room to room.
Award-winning technology: the Muv-X has been awarded AIBF All-Star Innovative Product of the Year 2021.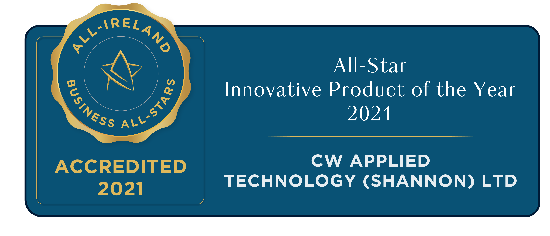 Our products have been proven as highly effective against SARS-Cov2 and CPE by an independent FDA approved and ISO 17025 certified laboratory.
Muv-X sterilizer Data
---
1 Introduction
Introduction of Muv X UV-C sterilizer: https://www.youtube.com/watch?v=SD0yutc3y_8
Launching the Muv XL: https://youtu.be/GmYnZlKiCRc
The Clanard Court Hotel: https://www.youtube.com/watch?v=omvYmG6z724&t=1s
Flexible and Scalable chemical free sanitising: https://www.youtube.com/watch?v=2DPwVwl6q2c&t=1s
---
2 Brief Instruction
Brief Operating & Safety Instruction for Muv X: https://www.youtube.com/watch?v=tNefXgyCXZI
---
3 Customer's feedback
The Muv-X for Hotel Sanitation: https://youtu.be/co50vg73SP4
Restaurant -Paul Treyvaud Feedback: https://www.youtube.com/watch?v=p7aLJQSSb8Y
Hospital: https://www.youtube.com/watch?v=trddGQA1b0w&t=1s
(We have sold to Specialist Screening Healthcare Ireland who use the Muv-X in both their Beacon Hospital (Dublin) and Blackrock Clinic (Dublin) services.)
---
Photo Album